Middle East Infoway and Telr discuss E-Commerce in UAE
December 13, 2014
Elyas Suleman
Last week we had invited Elias Ghanem – CEO of Telr, a Dubai and Singapore-based online payment gateway targeting emerging markets, to join us at our bi-weekly business networking meeting which attracts a large number of Entrepreneurs, CEOs, Business people, Marketing Teams and other representatives of both, established businesses and new start-ups.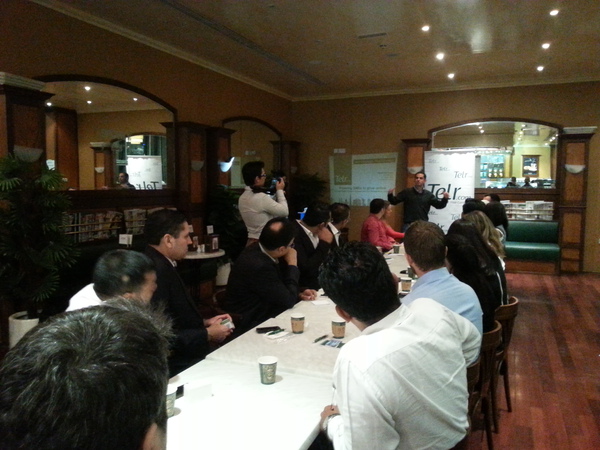 Middle East Infoway has organised these types of Business Networking Events in Dubai where people from different sectors have regularly come together to discuss business related topics in the past including business ideas, innovation in business, digital marketing, how to grow your business, challenges faced in UAE and a whole lot of other business topics.
As expected it turned out to be another informative evening where the core focus was on companies in the UAE looking to sell their products and services online since Middle East Infoway is a pioneer in E-Commerce Development and Telr is a leading online merchant payment platform.
We have summarised the most interesting findings below:
Cash-on-Delivery (COD) is generally a problem that can lead to the demise of an e-commerce business simply because the high ratio of returns. Many customers order a product knowing that they will not be fully committed to the sale as the payment is collected on delivery. This means that they can refuse to pay for the item being delivered and this becomes a major loss for the vendor that includes the cost of courier or delivery service, cost of return shipment, cost of restocking and loss of time which could also mean you may never be able to resell that item after return especially if it is a product that quickly drops in value in the space of a few weeks. These problems are mitigated with online payment with credit card or debit card which tend to be more binding and would filter our those customers that are not really serious in buying your product.
Our Advice: You should try to avoid COD which, although may seem like a cheaper way to start, will end up costing you dearly as outlined above.
Security Concerns were one of the reasons why some people don't shop online in UAE. This is actually a myth because the majority of people in the UAE actually buy products online from foreign countries such as UK, USA and other European countries. The reason why they do that is because there is a lack of local online retailers in the UAE or a low variety of products or no availability. Many UAE Residents are now shopping online regularly, paying bills, buying products and services online. Secure Socket Layer (SSL) allows shoppers to pay online and submit their credit card details without worrying about their details being stolen as SSL encrypts all of the data entered which can be almost impossible to decrypt. In fact, you have more chances of losing your wallet at a shopping mall than the chances of your credit card details being stolen online. Your wallet would also contain more in terms of your Cash, Bank Cards, Emirates ID Card and Credit Cards.
Our Advice: E-Commerce is definitely the way to grow your business and increase sales if done the right way with the security tools that we have. If you do not sell online yet by accepting credit cards then you should get started now and be on top of the E-Commerce boom that is about to happen here and those who start early will be ahead of the pack and are likely to be more successful than their competitors – this is one way that your business is open 24 hours without having to employ more staff since your online store is always open at no additional costs. After all, as a customer, who wants to sit in the dreadful traffic here in Dubai just to buy something and stand a chance of losing their wallet in the shopping mall when you can shop from the comfort of your home around the clock?
Technology, Deployment and Expertise is something that many businesses are unsure about. This is a strange issue because the companies do not need to worry about this as there are experts here in Dubai that take care of everything for you. For example, when a company needs Company Vehicles, they don't start building their own vehicle from scratch as they simply go and buy or lease the vehicles. Similarly when you need to build an E-Commerce website then you get in touch with an E-Commerce Development company like Middle East Infoway to do this for you as they have the experience, expertise and technology to do this for you quickly and cost-effectively.
Our Advice: You don't need to worry about the nitty gritty stuff as E-Commerce Development is one of the forte's of Middle East Infoway backed by our partnership with Telr for the Payment Gateway technology so you simply need to get in touch with us and we would take care of everything for you and have your online store operating very quickly. Not only that, we can generate leads for you through digital marketing so that you get customers coming to your website to buy your products or services and we have the experience of advising you on the logistics of your online business including warehousing and deliveries.
Customers are protected by their banks. We found it surprising that many people don't know that their transactions are protected by the banks here so if you find a charge on your credit card that you don't recognise then you can contact your bank or credit card provider who will help you to dispute the charge whether it is a fraudulent order, item not received or any other problem. You do not even need to have something like Credit Shield to protect you as it is the bank's job to protect you from fraud whether the transaction was online or offline at a shop or even over the phone.
Our Advice: Shop online as much as you want without worrying about security as your bank has got that covered. Visa and Mastercard have good systems in place for this and work with all of the banks to reduce the amount of fraud globally.
In conclusion, security is no longer a concern and you really do not have anything to lose as a business to start selling online here in the United Arab Emirates. In fact, by having an online shop you can reduce your business costs and increase your sales at the same time. Also, do not be under the false assumption that you can only sell products online as it is certainly possible to sell your services online if regardless of whether you business is B2C or B2B. We predict that over the next two years there will be many new E-Commerce companies selling online as well as existing businesses starting to sell online.
Leave a Comment